The best crossbody bags for moms are a combination of functionality and style, which make them an excellent choice for busy moms. It's an ideal solution for women who want to have both hands free and still look fashionable.
A cross body bag with several compartments is a great option because it will make it easier for you to organize baby stuff. To help out the mothers in picking up the cool purses for moms, we have carefully put together a list of the top fifteen best crossbody bags for moms out there.
You can pick your favorite from the following list that meets all your needs and requirements.
Read also: Best Travel Purse Reviews and Buying Guide
Best Crossbody Bags For Moms Our Top 15 Picks
How To Choose The Best Crossbody Bags for Moms
It can be very tough for a mom to carry a bag while carrying her baby. Most mothers avoid using their bags only because they can not find the correct mother's bags. Every mother wants a container that holds all of her and her baby's stuff and does not compromise on the looks while doing so.
It is necessary to buy a crossbody bag with all the features to suit your needs. When shopping for the best crossbody bags for moms, you should consider the following factors:
You might like the leather feel, but when it comes to washing, leather requires a little more TLC. Polyester or organic fabrics may be washed a bit more quickly and come in various colors. Lastly, select the material that you feel is the most comfortable. All the bags that we have mentioned on our list of the Top 15 Best Crossbody Bags for Moms are simple to carry or easily cleanable.
For a new mom, being organized isn't that simple with all the baby troubles combined. Pockets are an outstanding solution to the organization of your baby's stuff.  Consider buying a bag with more than one pocket and a side pocket. Crossbody bags with many pockets, zippers, side pockets, and pouches will make it easier for you to take everything while going out.
Bags usually are fitted with a strap that matches the color and material of the bag or chain strap itself. The length of the belt is another significant factor. Always make sure to verify that the strap is adjustable enough. Ensure it fits comfortably, so it's easy for you to reach into your bag. A chain strap is sure to bring some light and edge into a style, but you should stick to a more standard strap if you don't like fancy straps.
While buying a crossbody bag, it is essential to pick those colors that appeal. If you are searching for a leather bag or a bag made with cotton and fabrics, they both come in various colors and designs.   Although specific colors appeal to some, they may not appeal to others. Therefore, it is better to go to what appeals to you when you buy a crossbody bag. Consider your wardrobe and look for bags that compliment the colors of your apparel.
1. KEHO Best Nylon Crossbody Bags For Mom 
It's an all-in-one bag as you can use it as a weekend, travel, beach, transportation, holidays, and a gym bag.  You'll love this bag's style and versatility.t It may be a difficult task for a mother to carry all stuff while traveling. This extra wide bag is vast and flexible enough for any event. This is easy to fold in your closet, as well as it is very lightweight and packable. It is also sufficiently versatile to match any outfit.
This bag is designed by Keho, which is a small veteran company that strives to provide outstanding customer service and products of high quality. It is a beautiful bag for students, tourists, mothers, athletes, and gym lovers. This bag has plenty of storage and secret pockets, including an outer pocket and two inner pockets to hold precious things safely, and is compact and spacious.
Its fabric is waterproof and is very easy to wipe down. It is large enough to fit clothing and diapers for a weekend trip. You may gift this best crossbody bags for moms to your friends and family on baby showers and can also use it as a hospital bag. It is a lifesaver for a quick overnight trip. It has ample space for extra baby essentials you may need.
Pros
Waterproof
Wider than most bags.
Stylish
2. Realer Designer Durable Crossbody Purse For Moms
This best medium sized crossbody bag is the perfect choice if you are searching for a funky bag for your everyday usage. It is made of excellent PU leather which makes the bag very durable and stiff against wear and tear. The robust and durable leather has been handwoven and emphasized with stylish rivets that make it look beautiful. The interior of the bag is well-designed for the agile organization in many compartments.
With a chic design, this bag can be used either in the office or for general purposes. The all-round beauty is balanced by the enduring golden hardware and classic leather design.  This hobo bag is made of premium-quality, polyester fitted leather. One of the core features of this hobo bag is to provide you with plenty of room without being too large.
The entire body of this stylish travel bag is shock and wear-resistant and lasts for ages. The long and adjustable shoulder strap makes it very easy to carry for a working mother. It is one of the best crossbody bags for moms and also has a significant side pocket with zipping and decorative tassels apart from the main compartment. This versatile bag is carefully handmade, with exquisite details.
Pros
The bag is sturdy and durable.
It offers multiple pockets.
The shape conforms to the contents being carried.
It is anti-shock & wear-resistant.
Cons
The interior of the bag isn't of premium quality.
3. S-ZONE Large Capacity Stylish Bags For Moms
It is made up of pure split cow leather and processed with oil wax so that the layer looks sparkling and bright. It has the famous high-quality YKK zippers. Nylon lining and gun metal color hardware. The filling is not stitched on both ends. Four metal rivets secure the bottom of the bag from abrasion.  It has an obvious texture. It's not voluminous, and its fabric has a slight sheen that brings beauty.
This is a fantastic choice for you if you are looking for a mother's bag that is not just spacious, but also is elegant and can go well with any attire. This leather bag comes with two roomy main pockets that fit a laptop and files, an internal zip pocket where you can put your iPad, and one additional zipped pocket for keeping your wallets and two more keys and card pockets.
At the top, the black edges should not be harmed under regular use. It has one front pocket and one back zipper pocket to keep commonly used items like cards, tissues, etc. Not only does this bag look stunning, but it is also very well made, and it never goes out of style. This most comfortable cross body bag often includes a removable long shoulder strap, and thanks to that, you can use this versatile bag as a shoulder bag and a tote bag.
Pros
It has multiple pockets for organizing your stuff.
Very spacious.
Inexpensive
It looks exquisite.
Cons
This bag has thin straps.
Some users have complained about its leather.
4. NeatPack Crossbody Bag For Women With Anti Theft RFID Pocket
While crossbody bags are not as comprehensive as backpacks, they are very convenient for working mothers. You can easily access all your belongings, as they hang above your body and you won't feel the need to take off your bag every time you'd need them. This bag is an excellent combination of storage, organization, and comfort.
It has additional protective features, such as an RFID-secured credit card pocket and lockable zips, and it has many pockets that can hold all your valuables. It has side pockets for carrying water bottles, iPods, and much more. The bag is equipped with a convenient, tight, and adjustable shoulder strap, which suits your requirements. It has strong and sturdy zippers that will not easily break and is made up of water-resistant nylon hence is easily cleanable.
It has a robust shoulder strap, so it's comfortable to carry, even when fully loaded. While the zippers of this crossbody bag are stated to be a bit tight, this feature ensures protection against pickpockets. It is made up of durable nylon that maintains your pocket well. Ultimately, the nylon fabric construction avoids stain and sweat, ensuring that your bag stays safe and tidy. Considered as one of the best crossbody bags for moms, the best thing about this bag is that it comes with a 100% money-back guarantee.
Pros
Lifetime money-back guarantee.
Spacious
Theft-deterring RFID pocket.
Stylish and reliable.
Cons
The zippers of this bag are very tight.
5. Convertible Best Handbag For Moms
These crossbody bag pledges to make the mothers look trendy and fashionable while carrying their baby's all essentials.   It is made of made-made vegan cloth. It is swift and easy to clean as you only have to scrub the bag. This bag is a trendsetter, with its sleek shape, faux-leather exterior, and shiny metal accessories. It looks like an outstanding designer bag. Meanwhile, it is structured like the most functional diaper bag on the inside.
This bag consists of three separate compartments to organize your things. It also includes a changing mat, stroller straps, an insulated bottle holder, and a zipper purse. It is very sturdy and is available in two colors, black and tan. The bag is fully lined and is fitted with high-quality zippers and stitching.
The elegant design of this crossbody bag means that you can use it as your everyday bag or as a travel bag as well. It also includes a strap that provides perfect adjustment. Also, the user changing pad and bottle holder can be taken advantage of. This bag has two main pockets that expand to accommodate all items for babies. And the interior is fully lined to add a luxurious attraction.
Pros
Inner lining fabric is stain-resistant.
It includes an insulated bottle carrier with zippered closure.
Its durable synthetic leather is easy to clean.
This bag is made from human-made vegan leather.
Cons
The diaper pockets are not big enough.
There's no padding on the shoulder strap.
6.

Myhozee Fashion Best Mini Crossbody Bag For Mom
This handbag is fitted with a sturdy, detachable strap. This bag is extremely versatile as you may use it as a crossbody bag, shoulder bag, purse, traveling bag, or a tote bag. It is a useful bag for any person who carries loads of stuff, hence making it a convenient pocket for mothers. Moreover, it is very light, and it can be used by both men and women of all ages.
This bag is made up of the most beautiful material and the most robust, high-quality canvas and polyester fiber. This shoulder bag has been elegantly and casually designed and can be worn with any attire. It has a high-quality, smooth metal zipper which is very convenient. The bag has a large capacity, an overly sizeable main pouch can help to maintain a well-organized storage space, you can carry your phone, keys, tissues, etc. easily in an orderly manner.
You can wash this bag in the washing machine, but it is suggested to hand remove it for more extended usage. This bag has one main compartment and two small inside pockets which include one inner zip pocket and one rear zip pocket. It incorporates excellent sewing methods and intricate quality. This is considered one of the best purses for moms and is casual enough to be carried with jeans and sneakers, yet stylish enough to make you look elegant.
Pros
Ample storage.
It can be used as a tote bag, shoulder bag, and crossbody bag.
It has two different kinds of straps.
Perfect for everyday use.
7. Michael Kors Emmy Saffiano Leather Medium Crossbody Bag
This bag is super cute, affordable, and of high quality. It is available in fourteen different color options, so you pick the one that matches your dress in a significant way. It is small and lightweight and therefore not perfect for people who carry a lot of stuff with them. But it's ideal to be used as an evening bag with enough space to fit all the essential things comfortably.
It has a beautifully textured saffian leather and an adjusting crossbody strap with a golden chain that is 23 inches long. The interior is fitted with a zip pocket and one slip pocket, and the outside has a magnetic fastening slip pocket. This versatile bag is neither too big nor too small for carrying your wallet, phone, keys, and makeup.
Not just because of its fashionable designs, Michael Kors is very popular with women's fashion and apparel because of their quality standards. This perfect bag for evening wear shows your personality in an elegant and trendy way. When you open the main zip, you can quickly access all your pockets. Not only is this crossbody bag very fashionable and stylish, but also it's a very functional product.
Pros
Available in multiple different colors.
It has a lined interior with a zippered pocket and an open slip pocket.
This bag is made with real saffiano textured leather.
Affordable
8. Collsants Everyday Crossbody Purse
The bag is made with a high standard canvas and cotton.  This crossbody bag comprises many sections so that you can sort all of your essentials in an orderly manner. This bag is perfect for keeping most of your small stuff such as keys, cards, wallets, mini tablets, cell phones, or more.
This bag is made from stunning canvas and cotton with some metal rings. It has a kind of structure that is comfortable to wear. It has carefully designed areas and compartments that provide an excellent solution for sorting all of your items. It's a perfect solution for everyday use while not taking bunches of things with you and just carrying the basics. With a minimalistic design, it can be used as a traveling or sports bag as well.
This cross bag can be easily washed at an average temperature. However, you shouldn't clean it in boiling water. You should dry it in a ventilated place instead of putting it directly under sunlight, and wash this bag separately to avoid staining. The strap can be buckled easily and adjusted to your comfort and height.
Pros
Secure pockets.
Minimalistic design.
Easily washable.
Stylish look.
Cons
The length of the straps is small.
9. SHANGRI-LA Purse Handbag For Women
This crossbody bag is designed especially for moms as when you need your hands free to hold your baby, you can wear this bag, as a shoulder bag or as a mom backpack. A padded sleeve protects the tablet or laptop. This bag is sufficiently large for a 14-inch laptop, iPad, make-up, clothing, and other belongings that you may need for everyday usage. It is one of the best crossbody bags for moms and also has two exterior pockets that provide you with easy access to your keys, phone, and essentials for your baby.
It is considered one of the best designer crossbody bags for moms and has adjustable shoulder straps that are made up of leather and cotton. You can put out both belts at the same time. The quest for practicality and aesthetics influences this model. It is well stitched, spacious, and convenient for everyday use. The materials used for the construction of this bag were carefully chosen to maintain durability and longevity.
The materials used are sturdy and of high quality. The bag is easy to switch into a backpack option, which is super convenient.  It is a perfect bag for moms on the go. You can stick a few bottles of water and some snacks inside for whenever you are on the move with your family!
Pros
It has two convenient zipper pockets inside.
Versatile
It has a padded area for a laptop or tablet.
Inexpensive
Cons
Average quality.
Some users may find it small.
10. Moclever 5PCS Toddler Diaper Bags Tote Set


This five-piece best bag for traveling with toddlers' baby diaper bag helps in holding different baby essentials. Each bag has three main pockets and two side pockets that can be conveniently filled with baby clothing, towel, blankets, toys, etc. The large bag can hold up to 22lbs. These best purses for organization are sturdy enough to carry all your baby's essentials.
With its large opening and seamless zipper closure, the Nappy bag simplifies life, enabling you to reach any item at all times without any problem. Excellent stitching and trendy styling will go with your clothing style as well. It can be carried on your shoulder or hands as it is designed with an adjustable shoulder strap and hand strap. This five-piece baby set will undoubtedly solve all your problems, and you may carry it with yourself while traveling or going out with your baby.
Since this best travel totes for moms is made of multilayered, stain, and water-resistant fabrics, you can easily clean the surface or the interior of this bag with a semi-dry cloth. If the stains are more severe or the bag is too dirty to be wiped clean by a fabric, then handwashing is suggested only with cold water, and you should hang it to dry after the wash. It also comes with a one-year money-back warranty.
Pros
Water-resistant.
It is made with 100% soft Pu Leather.
Ample space.
Cons
Some users found it to be smaller than the expected size.
11. Baggallini Pocket Lightweight Water Resistant Travel Purse
This bag is constructed of Nylon and comes with a 100 % polyester lining, rendering it super light and waterproof.  As this brand manufactures excellent secure bags, this specific model comes with a separate RFID-blocking pocket for carrying your passport and essential cards.
With a separate pocket, this classy bag helps you to organize your cards and travel documents quickly. Overall, the bag itself looks fantastic. Widely known as one of the best carry-on bags for moms, this is a fashionable bag that is very much loved by most mothers.  There are multiple color options available, so you choose your favorite from the 24 different choices.
The outer synthetic fiber can be cleaned easily. The pockets of this crossbody bag were designed quite carefully and so that you may carry all your valuables and essentials. It is constructed of extremely robust content that is water-resistant, meaning you can use this bag as an everyday bag as well. It also comes up with an additional pocket and weighs just nine pounds.
Pros
RFID protection pockets.
Water-resistant.
It has removable straps.
It is incredibly durable and lightweight.
Cons
The shoulder strap is not very comfortable.
12. SoHo Luxury Diaper Bag Set
It is a collection of seven different pieces, which form a whole bag.  The main compartment is very much spacious and is a perfect option for mothers as there are several pockets where you can hold your baby's stuff. There is also a wide opening and a zip closure in the main compartment.
This bag has a vivid color and a lovely design. The inner pockets are a perfect place to carry non-baby items such as your passport, shades, and other stuff. Since it is spacious enough, you can easily fit in your laptop, books, wallet, etc. This best designer handbags for moms is constructed from water-resistant nylon, and it uses a drawstring to close.
It has seven smaller and insulated interior pockets, four exterior pockets, and two pockets on both sides of the bag. It even comes with straps, and you also get a charging pad with this. Reliable and robust zippers protect nearly all pockets. The bag is elegant and stylish with different stripes. The entire SoHo set is water-resistant, hence making it perfect for traveling and unexpected rainy days.  It has a variety of options available in terms of style and colors.
Pros
The stroller straps allow you for flexible movement and arrangement.
It is waterproof and lightweight.
This bag is very comfortable and good looking.
Easy to organize.
Cons
You can't turn this bag into a backpack.
The material is not very easy to clean.
13. Lily Queen Canvas Tote Handbag
This is an ideal choice if you are looking for a casual tote bag for carrying extra items. Unlike other totes, this best tote bag for moms is constructed from sturdy canvas and has a zippered top that makes it suitable for traveling. It is spacious enough to carry all your essential stuff, including a laptop, iPad, notebooks, etc.
This robust tote can be used as a top bag or shoulder bag or as a crossbody, offering premium versatility. Broad, breathable straps avoid stresses on the shoulders, irrespective of how heavy stuff you carry. This bag is made up of extremely durable, flexible, and water-washable 16-oz cotton canvas. It has a zipper across the top, and the bottom is reinforced.
The straps on this bag are extensive and distribute the weight much better than my other bags. The quality of the canvas, the stitching, and the hardware are all of the outstanding quality, especially at this price point. This bag is washable, but it is not suggested to wash this in the machine, but rather handwashing is suggested. To ensure this bag's quality, don't use bleach nor soak it in water and never put this bag to dry under direct sunlight.
Pros
Zip closure.
Adjustable & breathable shoulder strap.
Multiple color options are available.
It is made up of cotton canvas.
Cons
The zippers are not very durable.
14. Kemy's Canvas Travel Crossbody Bags For Women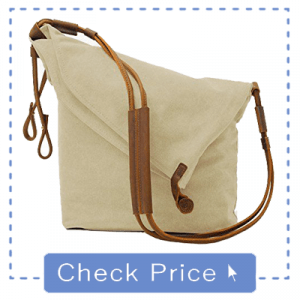 This Unisex bag is excellent for those moms who look for a normal and not a trendy tote to hold children's products. You can also carry this bag while traveling. The features of this bag are pervasive. This bag is rendered by high-quality material and incredible style. Moreover, you don't have to worry about the color fading of this bag.
The most exciting thing about this bag is its neutral style. It has an appealing, casual slouchy bag look. A mother would like to have as many pockets in her purse as possible without compromising on the style, design, and appearance. The exterior pocket is rather small and functional. The main compartment can be filled with anything you want. You may easily carry your precious little items in the outer pocket.
The inside of the bag is lined with a poly blend material, and you may easily clean it. This bag is unique in design and is of excellent quality. Not only is this bag lightweight, but also very comfortable and allows the superb organization of your stuff. This is a gender-neutral bag and can also be carried by men.
Pros
Heavy-duty canvas material.
Long and adjustable strap.
Gender-neutral.
High-quality bag at an affordable price.
Cons
It has fewer pockets than other bags.
15. Vera Bradley Women's Signature Crossbody Purse
Vera Bradley has been producing a large variety of crossbody bags since the beginning of the 1980s. Their bags are renowned for their varied designs as they add luxury to their plans. The lovely bags compose of luxurious cotton and unique designs. This bag is brightly colored and meant for moms who like the hipster trend.
The crossbody strap can be adjusted to make the bag easy to wear or slung across the shoulder. Three inner and outer pockets make it very convenient to carry several things. Hence the storage room is another appealing aspect of this gorgeous bag. You can fit in an ample amount of stuff in this bag.
It is protected with RFID technology which guarantees protection so that you can easily carry your credit cards and other valuables without worrying much. What separates this bag from the other bags on our list is that it is not just sturdy and robust with a trendy and fashionable look but is also machine washable which is a rarity in crossbody bags for moms. The wide variety of colors and patterns of this bag adds zing to your attire.
Pros
It is incredibly light with a sleek finish.
Machine washable.
Durable and sturdy.
Fashionable and hippy look.
Conclusion
If you are a mother, then you would know that it is not essential to have a crossbody bag that is trendy or elegant, sometimes all you need is the right bag to go with your ensemble. With all of the options that are mentioned in this list of Top 15 Best Crossbody Bags for Moms, you can easily select the one that caters to your needs and requirements, and with the buying guide, you can now quickly examine what's right for you.