Are you looking for a suitcase for your upcoming trip? Want to have a hassle-free luggage carrying experience? Do you want a durable bag for your international tour? Then why not give a try to Olympia's suitcases? Olympia is a well-known name in the bag industry. So, people often prefer to buy products from this brand. Olympia USA luggage reviews are positive. Therefore, people give excellent feedback. It is because of a bag's style, durability, handle, wheels, and all features in between. These characteristics make a bag ideal. Plus, it ensures the longevity of the traveling bag. 
Click here, If you are interested in reading a detailed buyer guide on Best Travel Purse
Olympia usa Luggage Review
If you want to keep your travel tension free, you can pick any one of the Olympia company models. Let's read each bag's reviews and features so you can easily decide to buy a suitable Olympia suitcase.
1. Olympia 8 Pocket Rolling Duffel Bag
Olympia eight pocket rolling duffel bag makes an excellent option for those who are looking for the carry of luggage plus rolling type bag. The affordable Olympia USA luggage bag is a wonderful choice. Olympia rolling bag is excellent for those who have to travel far distances. The kit comes in various colors like black, hot pink, red, royal blue, and dark lavender.
Sizes
Moreover, this durable olympia rolling bag is available in a variety of size ranges. It includes 22, 26,29, and 33 inches. It is the bag for all. The spacious luggage carrier is suitable for packing different stuff without fear of tearing of bag.
Material 
The designer has used 100% pure polyester material to construct this sturdy bag. The impressive design comes with a textile lining. If we talk about the space inside the bag, it is awesome too. There are eight pockets in the bag. So, you can keep all your clothes and accessories in a well-organized way. Furthermore, for easy carriage, there is a present expandable handle. The comfortable handles are 29 inches in height and 15 inches wide. 
Straps and Wheels carriage option
For convenient carriage, the olympia duffel bag comes with roller wheels. These are sturdy and smooth enough to run on any kind of surface. Furthermore, if you don't want to roll on the bag, there are present shoulder straps. The premium quality straps do not create any stress on your shoulders. Thus, it helps you carry your bag for a long time. It means if your bus or flight is late, you can quickly move by wearing your bag on your shoulders without feeling tired.
Appeal 
The best thing about this Olympia usa Luggage Review is that it has a designer look. It also enhances the modish view of the inner products. No doubt, it is appealing and attractive. You can use it for traveling purposes; instead, it is ideal for keeping your gym kit in it. The convenient carry bag also good to use for office purposes. There are a lot of pockets in it. Keep your laptop, files, pens, and a lot more things in an organized way. Perhaps, it 
keeps you stress-free.
Pros
Durable

Stylish in design

eight pockets

Spacious

Shoulder strap

Large handle
Cons
The wheel makes a noise that is sometimes irritating in quiet places.
2. Olympia Denmark 3 Piece Luggage Set
Olympia Denmark 3 piece luggage set is another exceptional product from the house of Olympia. It has become most travelers' choice because of its hard shell, sturdy body, and durability. Moreover, it is appealing in design and seems stylish when you carry it. 
Color and sizes
The sturdy and functionalOlympia luggagebags come in a variety of colors. These include blue, purple, white, black, and turquoise. Moreover, the three pieces set have different sizes. So you can easily pack all your stuff in all three sizes when you are moving for an extended tour or with your family.
Material and construction 
The robustly constructed bags come with four wheels so you can quickly move in any direction. Furthermore, the handle has a push-button mechanism so you can lock it in position securely. Thanks to aluminum construction, that is hard enough to bear the pressure. Perhaps, it carries the maximum load in the bag conveniently.
Olympia usa Luggage Review is hard in design. The designer has used ABS plastic to craft this luxury and stylish bag. It is hard enough to bear a load of other bags and does not crack if fallen accidentally from some height. Moreover, a fully padded interior lining gives extra strength to the bag.
Compartments 
For the well-organized luggage package, the designer has added various compartments. Perhaps, there is a separate compartment for the shoe packing as a mesh zip pocket to keep small accessories. Furthermore, a buckle belt is present to keep clothes and other items firmly in one position.
The interior divider of the bag has two separate compartments. Furthermore, another thing about this Olympia bag model is the presence of a wet vinyl pouch. If something is wet and you are in a hurry, then keep it in a pouch to save other stuff from being moist.
Hidden zip feature
One of the patented features of the Olympia bag is the hidden zip where you can place your personal belongings. It will prevent you from any embarrassment if custom officers ask you to open the bag in front of the public.
Pros
Three different sizes

ABD plastic construction

Hidden compartment

Multiple pockets

Shoe compartment and vinyl pouch for wet things

Affordable
Cons
Bags do not glide smoothly.
3. Olympia Luggage Hamburg 3-Piece Luggage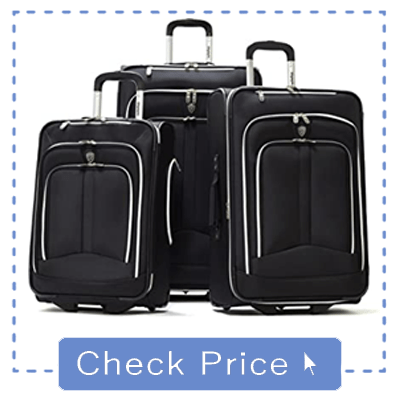 Olympia USA luggage company offers another incredible bag type that is a wonderful option for travelers. The lightweight yet sturdy and spacious suitcases are perfect to use frequently. If you have to travel many times a year, this model can be a perfect companion. Perhaps, you can stay stress-free as the three bag sizes will allow you to store all your luggage nicely,
Deisgn 
The Hamburg collection bag has a low profile design and gives a sporty appeal. It comes in three bag sizes. One is 22 inches carry on; the medium one is 25 inches, while the large one is 30 inches in height. The expandable bags offer excellent space to fit your packing needs. 
Convenient carriage system
The bag is sturdy and hard enough to bear pressure. The designer has used the blended material to give it a smooth, soft, and attractive look. Moreover, its design is so perfect, and the frame maintains the balance of the bag. Thanks to the inline skate wheels that offer the hassle free rolling of the bag on any surface. The sturdy handle allows smooth gliding and creates no stress on your arms and shoulders.
Storage capability
Now, if you are thinking about storage features, it is fantastic too. The bag is spacious and allows you to pack extra stuff because of the stretchable feature. Moreover, the two stacked zippered pockets are deep, and you can easily pack your books, thin packages, extra outfits, or other accessories. Plus, the bag comes with a mesh zipper pocket and hanging zipper toiletry kit. Thus, the bag is simply fantastic to keep all your luggage is well organized.
Secure luggage packing
Another outstanding characteristic of the bag is the interior tie strap's presence to keep the clothes secure in the position. Moreover, there is present three shoe compartment. For the convenient carriage, the sturdy handle comes with a push-button feature so you can lock the handle securely.
The ergonomic bag is suitable for traveling nationwide and internationally. The sturdy bag has an inside added lining, plus the exterior is also strong to bear the pressure and any jerks. Moreover, zippers glide smoothly, and you enjoy a tension free packing experience.
Pros
Durable and stylish

Multiple compartments

Hanging pouch for accessories

Shoe compartment

Handle lock system
Cons
The handle length is short
4. Olympia Luxe Ii 3-Piece Exp. Eva Spinner Set
Another excellent quality Olympia suitcases that have won the hearts of travels is the Olympia luxe li collection. It is the popular product of the Olympia softshell type bags.  
Construction 
To construct the sturdy yet, soft bags, the designer has used 100% polyester lined with EVA foam. Moreover, their reinforced bottom corners give it extra strength and prevent breakage if it falls from height.
Besides this, reinforced characteristics offer extra resistance and give a plus point to this bag.
Furthermore, for convenient carriage, the bag features a spinning wheel and retractable wheel handle. Thus, you can smoothly glide the bag on roads, tracks, or marble floorings on airports.
Compartments 
If we talk about the storage in the Olympia usa Luggage Review, it is awesome too. It has two large compartments outside the lid that allow you to keep all accessories, 
The inside storage is fantastic also. There is present a single main compartment for keeping your clothes. While to keep your luggage well organized, there is a present wet pocket on top of the lid and the mesh pouch. Plus, to keep all your luggage secure, the bag comes with tie-down straps.
Colors and sizes
Olympia spinner luggage bag comes in a variety of color options and sizes that give an enchanted look. It is a big piece for luggage to provide you comfort and a relaxing packing of clothes and all your accessories. The maroon and purple shades of the bag look awesome and give you a fantastic feeling when you carry the Olympia luxe li with you.
Pros
Multiple compartments

Smooth wheel gliding

Durable polyester material

Padded lining for more strength of the bag
Cons
There is no locking system.
5. Olympia Apache 3pc Hardcase Spinner Set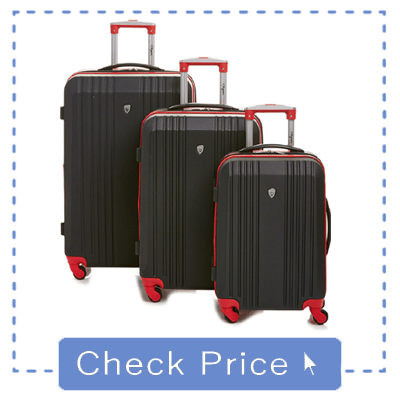 Olympia Apache luggage bag is the superior quality hard-case suitcase that comes in two colors black with blue and black with lime. The sturdy case construction makes it a durable bag and helps you to carry the luggage conveniently. People find the easiest way to carry the luggage, and here are the best bags that allow you to pack your products without any worries. 
Design 
The stylish design has ABS plastic construction that adds strength, and you can confidently carry your luggage without fear of breakage. Moreover, the inside of the bag has the added lining that adds additional strength to the carry on bag.
Convenient carriage feature
The best thing about the olympia hard case is that it comes with four-wheel spinners. These allow free movement in multiple directions. You can move it freely on any surface, and it glides nicely without any hassle. Furthermore, the bags have an aluminum constructed handle with a lock system. In this way, you can secure the handle in a certain position. Plus. It's long enough to allow you to carry your luggage with ease.
Storage capability
If we talk about the bags' space, it offers a lovely space to pack your luggage. 
The expandable option helps you to pack some extra stuff. For the well-organized packing, there are present the interior zip pocket. Plus, an elastic tie belt also helps you to keep your luggage secure. Another remarkable feature of these durable luggage bags is a present interior zip divider and a shoe pocket. Plus, there is present a mesh zip pocket to keep the small accessories in one place.
Sizes 
Olympia apache luggage bags come in three different sizes for everyone's ease. The first one is the larger one with 29 inches in height; the second one has 25 inches in length, while the third one is the hand-carry with a height of 21 inches.
The unisex adult bag is perfect for carrying on international or national tours with convenience and confidence. You will have an excellent luggage carrying experience with premium quality hard case material.
Pros
Aluminum handle with locking system

Hardcase bag

Spinning four wheels

The padded inside lining adds strength to the bag
Cons
Wheels do not roll on the hard floor or carpet
6. Olympia Carry-On, Black, 22 Inch
Olympia USA luggage reviews have revealed that this model from the Olympia house covers all features you expect in a premium grade bag. From durability, design, material, space, wheels, and everything in between, it is a perfect choice for travelers.
Construction 
The china assembled bag has been crafted with the 840 D 3 tone jacquard polyester.  It is durable to make your journey carefree. It is a lovely bag with excellent space and expandable characteristics. This feature increases the capacity of the bag, and you can store more than the expected capacity.
Designer 
The manufacturer has designed the 360 degrees spin wheel system. It offers sideways rolling capabilities. This will allow free movement in multiple directions. Moreover, it provides easy access. Thus, it helps you to carry the bag on multiple surfaces like hard floors and carpets.
Protection 
Olympia 22 inch suitcase is an ideal and convenient mode of a luggage carrier. The front panel has the EVA padding that provides ultimate protection to your luggage. Plus, it prevents even fragile items from the jerks.
Pros
Expandable

Tie belt to keep luggage secure

Polyester durable body

360-degree rotation wheels
Cons
Sometimes the wheel creates an annoying sound
7. Olympia Hopkins 18-inch Backpack
For the students, hiking enthusiasts, and office workers who need some essential luggage to carry them, the Olympia Hopkins 18 inch backpack is the perfect option. It is available in different colors like olive, wine, and Sienna. It is a durable and sturdy bag with the sternum strap for extra security and provides comfort earlier. The sturdy bag has shoulder straps that do not create any stress on the shoulders.
Design 
Olympia Hopkins 18 inches has an ergonomic design. The manufacturer has used water-resistant high-density ballistic polyester to design this incredible and sturdy bag. The padded laptop compartment and padded shoulder strap all add the strength and comfort element to the bag.
Compartments 
It comes with the Delux internal organizer, so all your things remain well organized. You can keep your laptop, proper files, and other stationery items. Moreover, you can use the bag to keep your hiking elements in it. On the top side of the bag is present the interior mess zippered pocket. Plus, the five extra zippered pockets make it an exceptional luggage carrier. Either you want to take it to your school or enjoy it for your traveling purpose, it makes an attractive choice for all.
Buckle strap security
For additional security of the inside luggage, there is present a magnetic strap closure. Moreover, it has a buckle strap also. Thus you can walk and run confidently as the secure strap system keep the luggage safe. Plus, there is present the drawcord closure on the opening side of the bag. The interior of the bag is cool too. It has been designed with a printed interior lining.
 Olympia USA luggage review shows that the bag has unparalleled durability. Therefore, you can buy it with confidence and enjoy traveling by having this sturdy backpack.
Pros
Multiple compartments

Durable

Printed interior lining

Padded strap 
Cons
Only for the carriage of limited things
8. Olympia Let's Travel 2pc Carry-on Luggage Set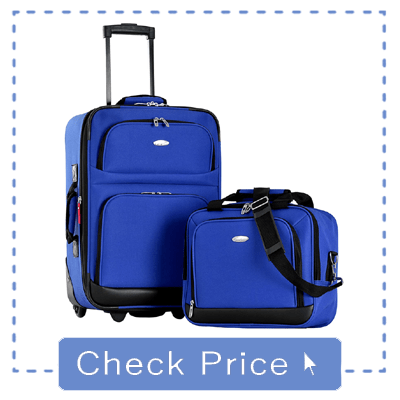 Olympia carries on bags are famous because of their sturdiness and durability. Like other models, the Olympia lets travel win the market race because of its solid, rugged polyester construction. Olympia carry on bag quite durable and resistant to wear and tear. Moreover, you will find no damage to the bag because of the best and unique materials.
Comfortable carriage
Furthermore, the bag is well known and the most useful choice because of the recessed metal ball bearing wheels. The skate wheels run well on different surfaces and do not create any hassle. You can carry the bag smoothly. Moreover, for easy carriage, the bag comes with a push-button retractable handle. It is awesome you can easily adjust its position. Furthermore, it does not move in or out when you are carrying your bag. 
Luggage security
If we talk about the security of luggage, you will find no mismanagement inside the bag as the tie buckle keep the clothes in the position and well organized. Moreover, there is present the front zipper pockets that allow easy access to the essential things. 
Design 
The robust bag offers a convenient carriage and keeps the luggage safe. It is all because of the EVA padded lining. Plus, to give the bag a style, the designer has added the imprinted interior. This gives a beautiful impression and enhances the overall appearance of the bag.
Size 
The bag comes with a combination of a small suitcase. The big one has a trolley and has a 21x14x8 inches, while the second piece is used as a shand carry. The dimension of the second piece is 13x11x5 inches.
Pros
Rugged polyester that adds durability

Rolling wheels

Aluminum handle

EVA foam padding

Printed interior
9. Olympia USA Playday Collection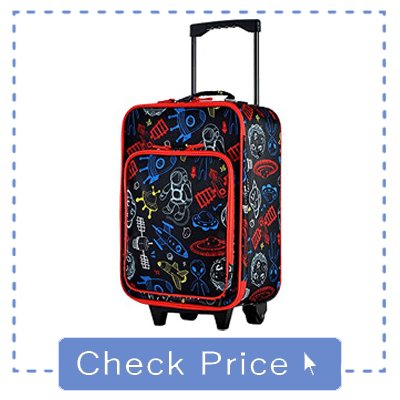 The fun and festive piece for luggage carry is the best bag for kids or those who love to have funky items. These bags are very helpful for the enjoyment of the children. The colorful bag with a black base looks awesome. The bag has a polyester material construction that is water-resistant, and you can wash it easily. These features enhance the productivity of the bags. 
Design 
To add elegance to the bag, the designer has added the same color's handle and wheels. The retractable push-button allows you to position the handle firmly. It does not move up or down when you are carrying the bag. 
The bag comes with a front zipper pocket for keeping the small accessories. Olympia usa Luggage Review is an ideal source for sleepover travel.
Size 
The self-repairing excel zipping technology quickly moves and does not create any hindrance while opening or closing the bag. It is a good size bag for kids or short tours. The bag has dimensions of 19 inches.
For easy carriage, one of the best Olympia suitcases has rolling wheels are present. These run smoothly on different types of surfaces.
Pros
Retractable push-button handle

Funky in appeal

Rolling wheels

Front zipper pocket
Cons
No locking system present
10. Olympia Under The Seat Carry-on
The elegant olympia carry on bag is ideal for those who have to carry laptops with their luggage. It is a small handy bag that easily adjusts under the seat. If you are going for a one-day official tour, then this bag makes a perfect match.
Design 
Olympia carry on bag has a durable construction. The manufacturer has used ripstop polyester to ensure longevity. Moreover, it shows resistance against wear and tear. The bag has a beautiful interior lining.
Storage 
The bag comes with a heavily padded inside compartment ideal for the placement of the laptop. Although it is small in size yet comes with the rolling ball wheel feature. Moreover, the metallic handle allows the convenient carriage of the bag. The bag has a zip closure. However, the external pockets have a Velcro closure to keep the inside stuff safe.
Carriage features
To ensure the safety of the laptop and another stuff bag has EVA foam lining. Thus, it is a nice small bag with durable construction and offers complete convenience, and does not create any stress to your arms and shoulders. You will find comfort after carrying this bag.
Final thoughts
All bags by Olympia are the best and have positive reviews. You can choose any one of them, depending on your need. Although all are best and special on their own, if you want to go with the editor's pick, you can prefer the Olympia duffel bag. It is because it has a dual feature. Moreover, you can carry it on your shoulders and take it as a hand carry via its unique rolling wheel. Furthermore, it is spacious enough to fit your luggage in a well-organized way.
Pros
Constructed of ripstop polyester
laptop compartment
EVA foam padded
Metal ball bearing wheels
Cons
Not Come with different sizes
Olympia usa Luggage Review and buying guide
To buy the best luggage, it is essential to know about a few things. The Olympia USA luggage review emphasizes on following key factors to look upon before buying the bag for traveling.
Choose The Right Bag According To The Occasion and Need
The first thing to know when you are off to shop for a bag for the luggage is to know your need. If you are a regular traveler and have to visit the site in your country, then a backpack or a shoulder bag can be the best option. It is because these are small in size, have compartments, and easy to manage. Moreover, you can easily adjust your laptop. Additionally, you can put two dress files and other essential accessories in these bags. In contrast, for long tours or moving with a family, a carry-on luggage bag is an attractive choice.
It is essential because the right kind of bag will provide you convince and help you keep your luggage well managed.
Buy Branded Products
Some people don't focus on the brand; instead, they see the product's external elegance or beauty and buy the luggage bag. But this is not the right way; it is better to do a complete survey and finds the luggage bag from the well-known company having excellent reviews. 
Olympia is the number one Luggage Products Company. People prefer to buy the product from this brand because of its durability and all other suitable and reliable features. 
Try to spend some extra money. If you buy the premium quality bag by paying little extra money, you will not be disappointed. Perhaps, you will appreciate yourself for making a wise decision. Remember, the quality bag never expires soon. It is hard enough to bear different environmental and physical conditions, thus remain safe from wear and tear.
Read Reviews About The Olympia USA Luggage
Before you buy the luggage bag, try to read the Olympia usa Luggage Review on the bag. Customers always speak the truth about the product. Instead, they describe in detail the pros and cons of the particular product. So when you select specific bags, try to read the review. 
Make sure you pick the popular site and deal with genuine products, don't rely on any local site that gives positive reviews because sometimes the site generates their reviews to grab people's attention. 
Therefore, be careful and make a wise decision. Don't be in a hurry. You have to spend a lot of money on purchasing a luggage bag take some extra minutes so you can find the right one. So, you can make your spending valuable. It will also be very helpful to you to save your money and time as well.
Check Manufacturing Country and Olympia Luggage Warranty
Only a single country doesn't have to manufacture a particular product. Rather many countries are manufacturing the same quality bags. You can find the brand of a well-known company. Olympia is a famous brand and manufacturing bags from China. I don't think Chinese products are of poor quality; they are available in high quality also. You can trust to buy the luggage bag from the house of Olympia.
The nag made by china but checked in Germany, Italy, or the USA, is valuable and helps provide a useful product. On spending the premium quality luggage, you will never get disappointed and get a comfortable luggage packing experience.
Bag Material
Another important factor to look upon before purchasing the luggage bag is the bag material. Don't compromise on the bag material. It must be sturdy and light in weight because if you choose a heavy one, it will be trouble creating in the airport as you may have to leave you any important thing at home if your luggage gets overweight. You have to worry about the airport's restriction and choose the lightweight polyester bag or ABS plastic carry on. These are light in weight yet durable enough to remain your traveling companion for a long time.
You can choose the duffel bag instead of any suitcase. It is ideal because these can carry heavyweight and are easy to maintain as well.
Size Of The Bag
Don't forget to check the size before you order the bag. If you buy too small or too large a bag, it will be inconvenient for you. You have to make a wise decision. Always pick a bag I which you can snugly fit your luggage. Don't choose too small so in the end, you have to face bag tearing problem neither nor buy too large that take space and nothing else. Be careful. First, know you're traveling needs and then find the bag of the right size.
Stitching On Luggage
The durable bags come with double stitches outside and inside. They are less likely to damage. On the other hand, the poor quality bag has a rough stitch, and their threads emerge out of the zippers and corners. Don't pay for such bags. Always look for the travel bags that have fine stitching quality, so they don't open during traveling or handing. We all know the airport workers throw bags roughly, and some changes may tear out, or the stitches may break; therefore, to avoid such a situation, keep rough handling of the bag in mind and buy the bag with fine stitching.
Bag Style
Bag style matters a lot. You can choose the one with handles or straps. The handle type bag is more comfortable to carry as you have to drag it. Now you may be thinking do all handle bags are reliable. No, this is not true. You have to make a wise decision by choosing a bag with a handle and wheels that are premium in quality. The bags with wheels that don't move on carpets or hard floors are useless. Similarly, if the handle does not remain in a position creates an annoying situation. So choose the Olympia usa Luggage Review style with wheels and hands that have 360 rotations and move smoothly. 
Zipper and Other Hardware Quality
The smooth zip bag is always hassling free and provides the best experience of opening and closing the bag; before you buy a bag, properly examine the bag. Try to zip and unzip three to four times. Moreover, cheek the trolley, handle, bottoms, if any, and overall bag. Don't pay for the bag if it is defective. Don't be in a hurry spending extra five minutes to thoroughly check the bag and buy the one that looks perfect and functional.
Price Of Luggage Bag
The cost of the luggage bag matters also. If you are low on a budget, don't worry, you can get the economical bags of superior grade. To find the right one, you have to do little homework. Olympia offers multiple ranges of buses. You can easily get the one that purely lies in your budget.
Keep in mind one thing that you should not compromise on the quality of the bag. Maybe you spend some thousands less, but it may not be a wise decision. Try to spend some extra so you get the valuable product that will run for a long time.
Maintenance
You should buy a product that ensures easy maintenance and hassle-free cleaning. The polyester bags are washable as well as resistant to strains. You can get them easily and wash them by using detergents. The quick maintenance and easy to clean bag allow you to keep your bags neat and tidy always.
FAQs
How to choose the right luggage bag?
To choose the right luggage bag, you should first know your traveling need. If you just have to go for one to two days with your laptop, then the backpack or small trolley bags can be a good option. While traveling with family, you can prefer the suitcase. Moreover, check the material, price, and style of the bag before purchasing the traveling bag.
What is a suitable bag for hiking?
For hiking purposes, a backpack is the best option. These come with compartments to place different things required for hiking. Moreover, the padded straps do not create stress on the shoulders and give a comfortable hiking experience.
Which company is best for the luggage bag?
Olympia USA luggage is the best company these days. The American-based company uses premium quality material, offers various styles and colors, and the carry-on bags are popular. These are convenient and comfortable bags that provide an excellent traveling experience.
Which material is best in luggage bags?
Designers use polyester or leather material to craft the bag. Polyester is the preferred type because it is easy to clean, maintain as well as durable. Moreover, the material is resistant to wear and tear, thus providing a convenient and tension-free carriage of luggage.
What different styles of luggage bag available in the market?
Luggage bags are available in duffel style, carry on and bag packs. All these have their importance and benefits. You should prefer the one that completely complies with your traveling needs.
Where to buy the Olympia usa Luggage Review?
You can buy Olympia USA luggage directly from the Olympia store or via Amazon. Moreover, you can check retailers in your country that deal with original Olympia bags, so you get the genuine one.
What wheels are best to roll the luggage bag?
The rolling wheels with bearing are smoother and run smoothly on any surface, especially carpet and hard floors. If you are looking for the best carry-on bags, try to visit the outlet and drag the bag to know the wheels' quality. Moreover, try to find the one with the 360-degree motion to move the bag in any direction.
How have the best bags improved luggage storage?
The luggage bag comes with an expandable option. The elastic grip inside the bag makes the interior more spacious, and one can conveniently keep the luggage more than a requirement.
How luggage bag secure the luggage in one position?
The tie and buckle belt and the compartments inside the bag help keep the luggage well organized, and you will find no mess in the bag.
How bags with compartments are best?
The compartment in the bag helps you keep all the luggage well organized. These come with shoe pouches, wet pouches, hidden zippers, and different sections to adequately keep all the luggage.